Myrtle flowers are one of the ultimate symbols of love and partnership. Their symbolism is widely used in everything related to love and marriage, and many cultures recognized this flower's importance in symbolic way.
The ordinary myrtle is typical to the entire Mediterranean area, originating in Southern Europe and North Africa. Some historical findings suggest that the Myrtle flower came all the way from the Middle East.
Flower symbolism is more important than we think. Flower symbols can be found in various cultures around the globe and every culture has its own view of each flower sort. They are our helpers when we lack the words to express our emotions and feelings to people we love. We say goodbye with flowers and welcome long-time friends when they come to visit us.
Flowers had a very important symbolic meaning in art and literature. Poets and artists would sneak flowers into their art works as symbols of rebellion or as messages to the public. Myrtle is particularly interesting because cultures around the globe had different opinions about its symbolism.
Meaning of the Myrtle flower
Flowers can have various symbolic meanings. Each flower is different, even though it can have a similar symbolic meaning as another flower. Sometimes they share common characteristics, but they are still unique in their own way.
Myrtle flower is best described with these words:
Prosperity,
Good luck,
Chastity,
Good luck in love and marriage and
Marital fidelity.
Prosperity – Myrtle flowers are symbols of prosperity and wealth. It is considered to be lucky to have Myrtle flowers inside your home, since it is going to bring positive vibes into your house. We all seek for stability and a well-balanced life, so it is good to have positive symbols inside the house that can call upon these two things.
Good luck – Myrtle flowers are symbols of good luck and positive energy. If you feel like you need a little bit of luck in your home, pick a beautiful bouquet of Myrtle flowers and place it somewhere in the center of your house. You can even place them next to your bed so that you can wake up each morning next to their beautiful scent.
Chastity – This flower is also a symbol of chastity and innocence. Many cultures have traditions related to this symbolic meaning of the Myrtle flower, and use this flower in religious rituals and ceremonies. Myrtle flowers remind us of chastity because of their white color and gentle leaves.
Good luck in love and marriage – Myrtle flowers were often gifted to brides and used as wedding decorations, because it was believed that this flower is going to bring luck to the newlyweds. They were used to decorate pathways and even the bride's head in order to attract positive energy.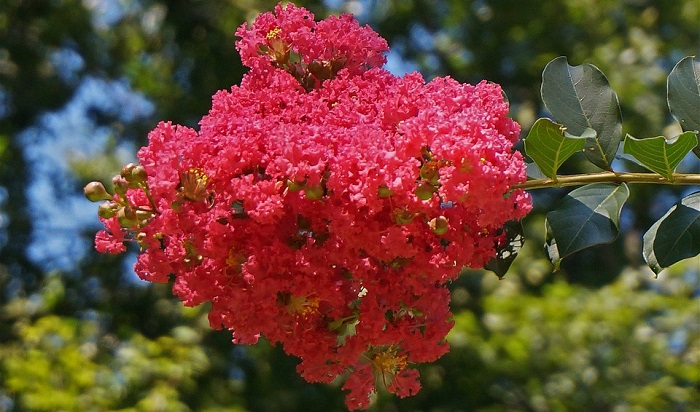 Marital fidelity – Similar to the above explanation, Myrtle flower was used to symbolize marital fidelity and love between two people. They were symbols of long-lasting love and mutual respect between lovers.
Myrtle – Etymological meaning
The name Myrtle comes from the ancient Greek word myrtos. The word myrtos means the Myrtle tree or the sprig. Myrtle flower belongs to the myrtaceae family of plants in the myrtus genus.
There are other myrtle species like crape myrtle, but this plant is actually no the real myrtle flower. They simply carry the same name as Myrtles.
Myrtle – Symbolism
Myrtle flowers have a very long history and symbolic meaning. In Greek mythology, Venus visited the Island of Cytheraea. She was embarrassed because she was naked, so she couldn't present herself to the public.
In order to hide her naked body, Venus hid behind a Myrtle tree and since then she adored it. This became her favorite tree and flower, and it supposedly inspired true love. To Greeks, Myrtle tree was the ultimate symbol of love and partnership. They even planted Myrtle trees around the country to inspire positive energy.
The beauty of the myrtle flower could not be resisted by the antique deities, so in the ancient Greece, the beautiful goddess Aphrodite chose the myrtle as her symbol, knowing that Aphrodite was born from a sea foam, easily linked to the foamy appearance of myrtle flowers.
In Victorian England, Queen Victoria's daughter, who was also named Victoria, carried a branch of Myrtle flower on her wedding as she was walking down the aisle. Since then, every woman in the royal family has to carry a branch from this bush in order to bring good luck to the marriage.
Because the myrtle carries the symbol of love, beauty and purity, young girls have chosen it for her wedding wreaths and bouquets since ancient times. After the wreaths of myrtle branches, they planted in the garden of the bride to give them peace and love. In antiquity, they considered it a holy plant, right next to the laurel.
The wreath of silk was given to the novices of love lyrics, but also to the army leaders who managed to win the war without shedding blood. Because of this custom it became a symbol of peace, prudence and wisdom.
The ancient Greeks used to put it on the tombs of their loved ones believing it would provide them with luck in their afterlife.
The Jews included it among 4 holy plants. Proclamation of the myrtle branch in Christianity was a symbol of innocence, love and fidelity, as well as friendship, peace and forgiveness. One old tale says the Myrtle will not grow unless a woman's arm has planted it.
Somewhere in the Mediterranean, various myrtle-based drinks are also produced. Thus in Corsica and Sardinia there are two types of myrtle liquor: Mirto rosso, obtained by maceration of berries in alcohol, and Mirto bianco, which is made by maceration of myrtle leaves in alcohol, lighter in color and lighter taste.
In addition to Sardinia, it is a well-known drink of sparkling sweet spinach of myrtle berries – Myrtus spumante dolce.
Myrtle – Color meaning
Colors can have dominant meanings when it comes to flower symbolism. They not only bring positivity into the appearance of a flower, but they also had an important symbolic meaning that sometimes varied from one culture to another.
Purple
Color purple is a symbol of royalty, power, beauty and prosperity. This is an ideal flower color to gift to someone you like or highly respect. The purple Myrtle flower is simply stunning and can be the center piece of everyone's home. They will send the message of respect, love and appreciation to anybody you gift this flower bouquet to.
White
White myrtle is a symbol of innocence, love, partnership and spirituality. This flower color is usually used in weddings as decoration. Brides make bouquets out of white myrtle flowers in order to invite good luck and prosperity in their message.
Pink
Color pink symbolizes romance, love, femininity and gentleness. This color flower can be gifted to anyone you like and want to show respect to. You can make a beautiful bouquet out of pink myrtle flowers and gift them to your partner.
Fuchsia
This color symbolizes femininity, power and confidence. You can gift this myrtle color to someone you like and want to get closer to.
Myrtle – Botanical facts and characteristics
Myrtle has long been known as a healing plant. Herbs and fruits are used for healing purposes. Myrtle contains essential oil, tannins, bitter substances, resins and organic acids. The greater the amount of these substances is contained in the berries of myrtle, the better.
It is recommended to chew fresh ripe berries to enhance appetite and improve digestion because their juice is beneficial to the stomach and intestines.
The ancient Greeks knew the antiseptic qualities of myth. There are many recommended extract prepared by maceration of myrtle leaf in wine, especially for lung and bladder infections.
In today phytoaromatherapy myrtle essential oil has an antiseptic and bactericide, helps with expectoration, calming or stimulating, depending on the applied amount. Because of the relatively mild properties, the mammary gland is suitable for the treatment of cough and other respiratory problems in children.
The antiseptic and bactericidal action of the mycosis was also confirmed by official medicine, so folk medicine has no fear of tea from myrtle. The most commonly used in cases of colds, bronchitis, asthma, inflammation of the bladder and canal, enlarged prostate, inflammation of the bowel and diarrhea, hemorrhoids and vaginal infections, is useful in skin problems such as acne, eczema, sores, psoriasis, bruising .
One of the properties of myrtle essential oil is the astringent property that helps with the collection of blood vessels and stop bleeding, particularly in the treatment of the gums, inflammation of the gums, periodontal disease.
Everything on a herb's plant has useful properties, so besides berries can collect and dry leaves, buds and flower buds. The leaves are best harvested at the time of flowering because they contain the most active ingredients and have the strongest odor. It dries in a shady place to keep the natural color.
It is important to know that before the use of essential oil of myrtle for medical purposes shall first consult with your doctor, because some ingredients essential oil can harm vulnerable people. It is also not recommended to take pregnant women and nursing mothers.
Myrtle – Secret message
Myrtle flower is telling you to love someone and someone is going to love you back. This flower is the ultimate symbol of love and partnership between two people which is often used in weddings and baptisms.
Myrtle flowers are symbols of innocence and purity and have been respected by many ancient cultures for centuries. Their symbolism is still strong today, and if we could separate only one message from the Myrtle flower symbolism, it would be the one of love.